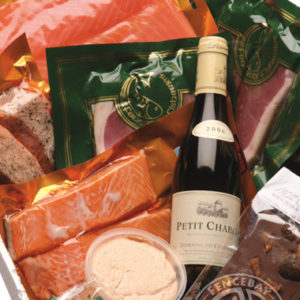 A Scottish hamper from Fencebay is the ideal gift for loved ones, friends or work colleagues.
Our carefully selected Scottish hampers have become a favourite of customers over the years as the perfect luxury present. A hamper from Fencebay is filled with specially selected items and customer favourites chosen by staff of Fencebay Fisheries in Fairlie, Scotland - see the product description below for details. Fencebay is home to the TripAdvisor Excellence Award winning restaurant The Catch At Fins Restaurant, noted in the
Michelin Guide
and a winner of a Local Food Hero Award for commitment to taste, quality and service.
Now you can customise your own Scottish hamper!
If you prefer to choose your own products from our shop, select 'custom hamper' below and we will deliver it filled with the other items in your shopping cart.
Please note : if you choose our 'CUSTOM HAMPER - FILL YOUR OWN' option the £10 charge covers delivery of the hamper only - please add additional products to your shopping cart which will be included in your hamper when delivered.
Any questions? Please feel free to
contact us here
by telephone or email.